How does Roehl's pay scale equal MORE MONEY for you?
It goes beyond flat rate-per-mile pay and recognizes your valuable time
Know exactly what you're going to make before you drive the route, every time
Shorter hauls actually mean higher earning power
Take a look at some real life examples of how Roehl Drivers earn MORE:
A driver with 1 year of experience hauls a 49 mile load that takes 2 hours; the driver earns $56.35
The same driver hauls a 200 mile load that takes 4 hours; the driver earns $110.00
The same driver hauls a 500 mile load that takes 10 hours; the driver earns $260.00
HOME DAILY CDL-A TRUCK DRIVER JOBS TEST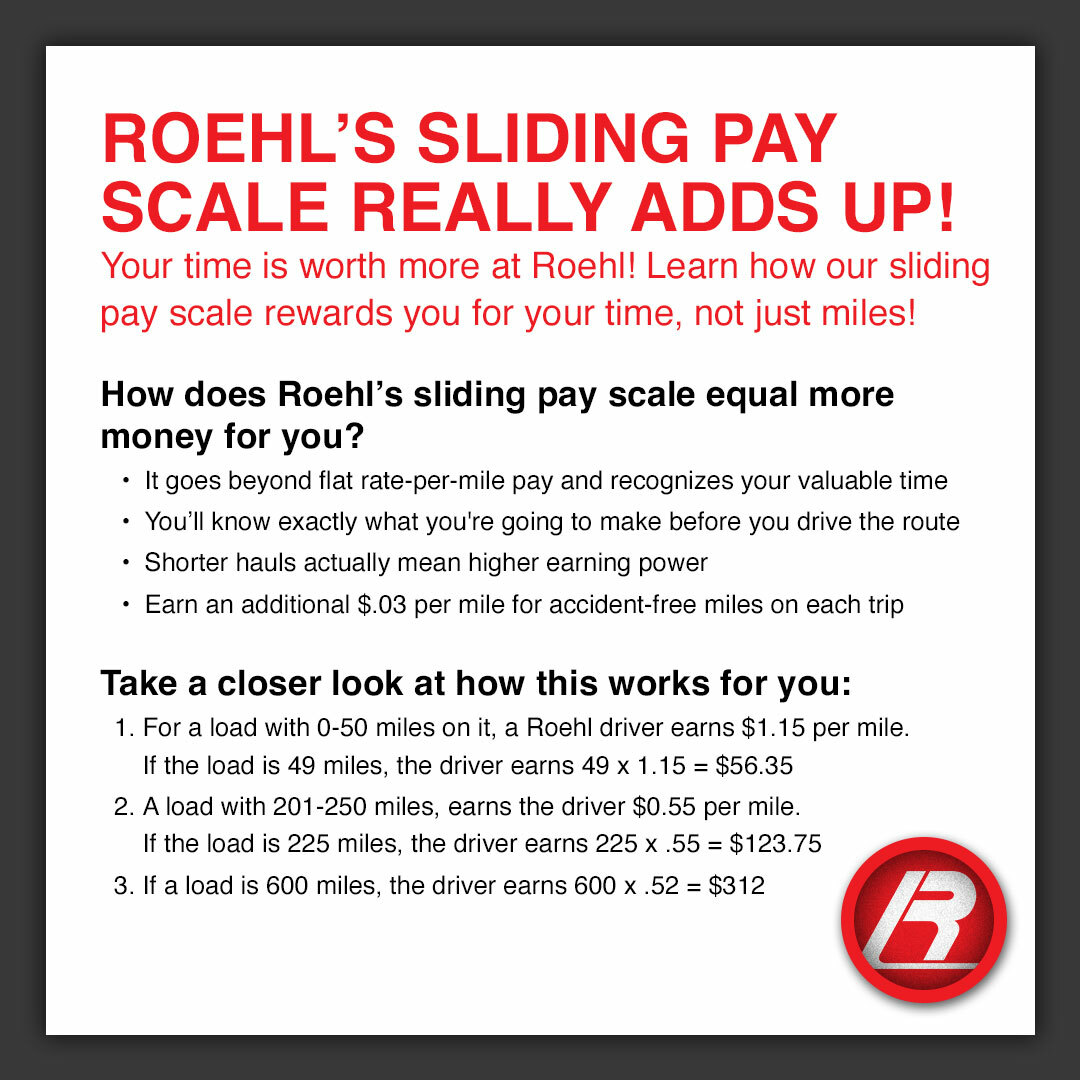 Take Home More. Be Home More.®
Home Daily CDL-A Truck Drivers Can Average $60,000 - $80,000 per Year!
Our sliding pay scale rewards you for your time, not just the miles you drive! You'll also have the opportunity to earn quarterly bonuses!
Maximize your earnings and still be home daily in these locations:
Portions of Wisconsin, Minnesota, Illinois, Indiana, Ohio, Michigan, Pennsylvania as well as metro Chicago, Dallas & Atlanta!
CDL-A Home Daily Truck Driver Jobs Offer:
Average $1,200 - $1,900 per week!
Address-to-Address mileage pay – you are paid for more of the miles you actually drive!
New, modern equipment
Comprehensive benefits package
Health, dental, vision, & life insurance
Paid vacation
Referral bonuses
Retire in style with a 401k plan & profit sharing
Bring a friend! - passenger (rider) policy
Bring a pet! – pet policy
Our smartphone app helps keep you connected, even when you're away from the truck
24/7 maintenance support
We measure downtime in minutes, not days!
Earnings are based on an average of actual Roehl drivers with at least one year of experience.
Join Roehl to Take Home More and Be Home More! Apply Today For CDL-A Truck Driver Job Opportunities With Roehl.